Last Updated: Wednesday, 14 January 2015
USB-102 FT4232H Evaluation Board
USB-102 is an evaluation board of FTDI's FT4232H. FT4232H supports USB 2.0 Hi-Speed(480Mbps).
You can utilize this board for FT4232H performance estimating, preproduction prototypes, USB communication interfaces for your application and more.
Overview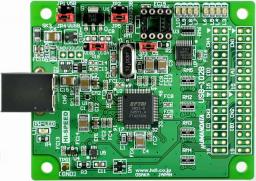 Click to Zoom
Reference Data
USB compliance test. Eye pattern of upstream tests.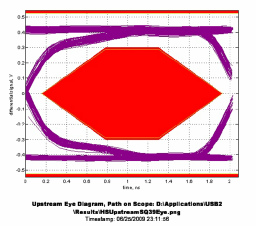 Specifications (USB-102)
FT4232HL Rev.B
USB B-type connector
16-pin user interface x4
Selectable power source (USB bus-power or External 5.0V input)
On-board 3.3V regulator (Selectable with External 3.3V input)
On-board 1.8V regulator (Selectable with FT4232H internal regulator)
Tx/Rx indicate LEDs x 4ch
Power-on reset IC
Power LED
EEPROM Socket
EEPROM x1 (Accessory, Blank)
4 layer PCB with Immersion gold
2.795" x 2.244" (71 x 57 [mm])
Non-use of 6 Restricted substances of RoHS directive
MADE IN JAPAN
Specifications (FT4232H)
This is not a specification of USB-102 but of FT4232H.
For more details, please see FTDI's web site.
Single chip USB to

quad serial

ports with a variety of configurations.

Entire USB protocol handled on the chip. No USB specific firmware programming required.

USB 2.0 High Speed (480Mbits/Second) and Full Speed (12Mbits/Second) compatible.

Two Multi-Protocol Synchronous Serial Engine (MPSSE) on channel A and channel B, to simplify synchronous serial protocol (USB to JTAG, I2C, SPI or bit-bang) design.

Independent Baud rate generators.

RS232/RS422/RS485 UART Transfer Data Rate up to 12Mbaud. (RS232 Data Rate limited by external level shifter).

FTDI's royalty-free Virtual Com Port (VCP) and Direct (D2XX) drivers eliminate the requirement for USB driver development in most cases.

Optional traffic TX/RX indicators can be added with LEDs and an external 74HC595 shift

register.

Adjustable receive buffer timeout.

Support for USB suspend and resume conditions via PWREN#, SUSPEND# and RI# pins.

Highly integrated design includes +1.8V LDO regulator for VCORE, integrated POR function and on chip clock multiplier PLL (12MHz – 480MHz).

FTDI FT232B style, asynchronous serial UART interface option with full hardware handshaking and modem interface signals.

Fully assisted hardware or X-On / X-Off software

handshaking.
UART Interface supports 7/8 bit data, 1/2 stop

bits, and Odd/Even/Mark/Space/No Parity.

Auto-transmit enable control for RS485 serial applications using TXDEN pin.

Operational configuration mode and USB Description strings configurable in external EEPROM over the USB interface.

Low operating and USB suspend current.

Configurable I/O drive strength (4,8,12 or 16mA) and slew rate.

Supports bus powered, self powered and high

-

power

bus powered USB configurations.

UHCI/OHCI/EHCI host controller compatible.

USB Bulk data transfer mode (512 byte packets in Hi

-

Speed mode).
Dedicated Windows DLLs available for USB to

JTAG, USB to SPI, and USB to

I2C

applications.

+1.8V (chip core) and +3.3V I/O interfacing (+5V Tolerant).

Extended -40

º

C to 85

º

C industrial operating temperature range.

Compact 64-LD Lead Free LQFP or LQFN package.

+3.3V single supply operating voltage range.
Package Contents
| Item | Image | Quantity |
| --- | --- | --- |
| USB-102 | | 1 |
| 32-pin Header | | 2 |
| EEPROM (AT93C46D-PU, Blank) | | 1 |
There is no paper document such as user's manual and circuit schematic in the package.
Please download those documents from the link in the documentation section below.
Price and Add-ons
Description
Model
(order code)
List price
(JPY)
Stock Status

FT4232H Evaluation Board

USB-102
Ordering
HOW TO ORDER HuMANDATA PRODUCT
---
[]