Last Updated: Wednesday, 18 May 2022
Intel MAX 10 FPGA board

Overview
ACM-110 is Intel's High performance FPGA MAX 10 board. It's compact and very simple. 3.3V single power supply operation.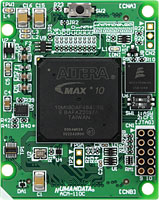 Click to Zoom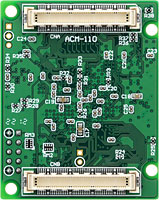 Click to Zoom
Block Diagram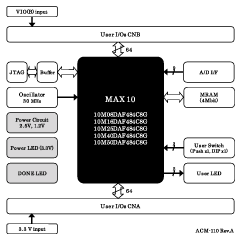 Click to Zoom
Specifications
Intel 10M08DAF484C8G or 10M50DAF484C8G

Feature
10M08
10M50
Logic Elements (k)
8
25
M9K Blocks (kb)
378
1638
User FLASH Memory (kb)
1376
5888
18x18 Multipliers
24
144
PLL
2
4
ADC Channels (12bit/1Msps)
17
9+9
Maximum user I/O pins(Device)
250
360
Maximum user I/O pins(

Board

)
128
128

This table is for reference. Please refer to official data-sheets for certain information.

3.3 V single power supply operation with on-board 2.5V/1.2V regulators
Power IC
Rev2: U5 MPM3833
Rev1: U5 EN5322QI
128 user I/O (with two 80pin HIROSE connectors)
A/D Conversion Input : 9 (12bits/1Msps)
- On-board Voltage Reference (2.5V, 1.2V)
MRAM (MR2A16AMA35 256Kx16bit)
Internal Configuration Device
On-board Oscillator (30MHz)
- External inputs are available
User Switch x2 (Push x1, Slide x1)
User LED x2
Status LED (Power, Done)
Power-on Reset IC
JTAG Connector (10 pin socket) for download cable connection
- JTAG buffer for stable download and debug
High quality eight layer PCB. (Immersion gold)
Compact size 1.693" x 2.126" (43 x 54 mm)
Tested all I/O
RoHS compliance
MADE IN JAPAN
Package Contents
| Item | Image | Quantity |
| --- | --- | --- |
| FPGA Board (ACM-110-**) | | 1 |
| Sockets (HIROSE 80P) | | 2 |
There is no paper document such as user's manual and circuit schematic in the package.
Please download those documents from the link in the documentation section below.
Price and Add-ons
Description
Model
(order code)
FPGA
List price
(JPY)
Stock Status
MAX 10 FPGA board
ACM-110-08
10M08DAF484C8G
MAX 10 FPGA board
ACM-110-50
10M50DAF484C8G
Universal board for ACM/XCM-1 series
ZKB-052
-
Universal board for ACM/XCM-1 series (Type2)
ZKB-103
-
---
[ ]