Last Updated: Wednesday, 18 September 2019
ZKB-103 Universal board for ACM/XCM-1 series (Type2)
Overview
ZKB-103 is a universal board for ACM/XCM-1 series equips 3.3V power supply and variable output power supply for VCCIO. Optional SMA connectors are available for high speed serial interfaces and general usage.
Top Side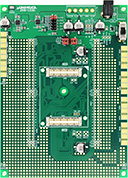 Click to Zoom
Bottom Side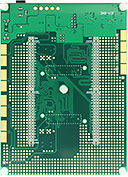 Click to Zoom
Specifications
Main power supply : 3.3V (6A MAX)
Variable Vccio power supply for CNB (0.8V to 3.3V, 3A MAX)
Connectors : ACM/XCM-1 series compatible 80 pin x2
Controlled signal path length from CNA, CNB connector to pads. (less than 10 [mm])
Four SMA pairs for ACM/XCM-1 series high speed serial interface. Connected to CNA / CNB specified pins.
(SMA connectors are optional)
Two SMA pairs for general usage. Not connected to any pins or pads. (SMA connectors are optional)
External clock input via MMCX connector (MMCX connectors are option)
Power switch and LED
DC input : 5V
DC jack (2.1 [mm] center plus ) and terminal block (option) for power supply input
High quality four layers PCB.(Immersion gold)
Board size : 4.488"x 6.102" (114 x 155 mm)
Board thickness : 1.6 [mm]
Short Tested (by Universal Open-Short tester)
RoHS compliance
MADE IN JAPAN
Package Contents
Item
Image
Quantity
ZKB-103
1
DIL 80-pin Headers
4
2.1 mm dia DC plug
1
Spacer set
Binding head screw (M2 x 3.5)
8
Plastic spacer (DURACON)
4
There is no paper document such as user's manual and circuit schematic in the package.
Please download those documents from the link in the documentation section below.
Documentation
Price and Add-ons
Description
Model
(order code)
List price
(JPY)
Stock Status

Universal board for ACM/XCM-1 series (Type2)

ZKB-103
[]