Last Updated: Wednesday, 24 June 2015
SIF40 to
SATA

Conversion Board

ACC-011 converts SIF40 interface into four "Master/Slave paired" SATA connectors.
The FPGA side interface is provided by SIF40 connector.
You can utilize ACC-011 with our FPGA boards which have SIF40 interface.

*This series was discontinued.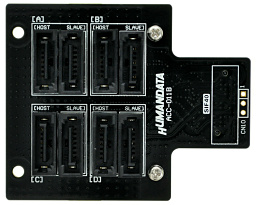 Click to Zoom
Specifications
SIF40 Connector (SAMTEC:SEAM-10-07.0-S-04-2-A-K-TR)
Four SATA connector (Master/Slave paired)
High quality four layers PCB (Immersion gold)
Non-use of 6 Restricted substances of RoHS directive
MADE IN JAPAN
About SIF40
Package Contents
| Item | Image | Quantity |
| --- | --- | --- |
| ACC-011 | | 1 |
| Accessories | - | 1 |
There is no paper document such as user's manual and circuit schematic in the package.
Please download those documents from the link in the documentation section below.
Price and Add-ons
Description
Model
(order code)
List price
(JPY)
Stock Status
SIF40 to SATA Conversion Board
ACC-011
---
[]