Last Updated: Wednesday, 23 October 2019
Altera MAX II T144 CPLD board

Overview
ACM-302 is Altera's Hi-performance CPLD MAXII board. It's compact and very simple. 3.3V single power supply operation.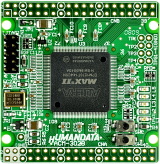 Click to Zoom
Block Diagram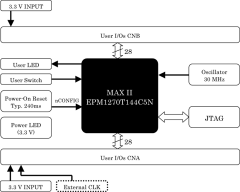 Click to Zoom
Specifications
Altera EPM1270T144C5N (MAXII CPLD 1270 macro cel)

Feature
EPM1270T144C5N
Logic Elements
1270
Maximum user I/O pins(Device)
116
Maximum user I/O pins(

Board

)
56

This table is for reference. Please refer to official data-sheets for certain information.

56 I/O PAD 100 mil (2.54 mm) grid
30 MHz Oscillator (50 ppm) or External
Two User Push-Button Switches
Four User LEDs
Power-on Reset IC
JTAG port (10 pin Header) for ByteBlaster [MV/II] or USB Blaster
3.3 V single power supply operation
High quality four layers PCB. (Immersion gold)
Compact size 2.087" x 2.126" (53 x 54 mm)
Tested all I/O
RoHS compliance
MADE IN JAPAN
Package Contents
| Item | Image | Quantity |
| --- | --- | --- |
| CPLD Board (ACM-302-1270) | | 1 |
| Pin Headers | | 2 |
There is no paper document such as user's manual and circuit schematic in the package.
Please download those documents from the link in the documentation section below.
Price and Add-ons
Description
Model
(order code)
CPLD
List price
(JPY)
Stock Status
MAXII T144 CPLD board
ACM-302-1270
EPM1270T144C5N
Universal board
with 3.3V10A DC/DC POWER SUPPLY
ZKB-054
-
Universal board for ACM/XCM-0 series (Type2)
ZKB-105
-
---
[]