Last Updated: Wednesday, 09 October 2019
Altera Cyclone V GX FPGA board
[HS Transceiver]
Overview
ACM-113 is Altera's High performance FPGA Cyclone V GX board. It's compact and very simple. 3.3V single power supply operation.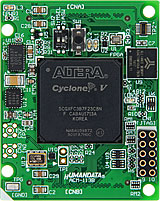 Click to Zoom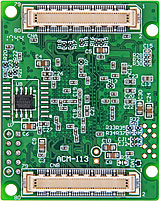 Click to Zoom
Block Diagram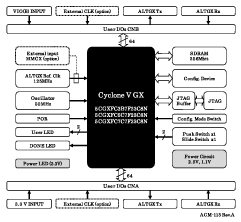 Click to Zoom
Typical Eye Diagram
Channel: 0 (N) CNB

Ref.Clk:125MHz

Rate:2.5Gbps

Swing:900mV (VOD = 40)
Pre-emphasis: 0%
Data: PRBS-31
Trigger: Rising Edge
Device: 5CGXFC3B7F23C8N

Click to Zoom
Specifications
FPGA: Cyclone V GX
- 5CGXFC3B7F23C8N
- 5CGXFC5B7F23C8N
- 5CGXFC7B7F23C8N

Feature
5CGXFC3
5CGXFC5
5CGXFC7
Logic Elements (k)
36
77
150
M10K Blocks (kb)
1,350
4,460
6,860
18x18 Multipliers
114
300
312
PLL
4
6
7
Maximum user I/O pins(Device)
208
240
240
Maximum user I/O pins(

Board

)
128
128
128

This table is for reference. Please refer to official data-sheets for certain information.

3.3 V single power supply operation
SDRAM: AS4C16M16SA-7BCN (Alliance, 256Mbit)
Configuration Device : EPCQ32A or EPCQ128A
128 user I/O (with two 80pin HIROSE connectors)
On-board Oscillator (50MHz)
- External inputs are available
High speed transceivers are connected to user I/O connectors (Tx/Rx pair x2)
- On-board reference clock (125MHz)
- External reference clock input is available (MMCX connector)
User Switch x2 (Push x1, Slide x1)
User LED x2
Status LED (Power, Done)
Power-on Reset IC
JTAG Connector (10 pin socket) for download cable connection
- JTAG buffer for stable download and debug
High quality eight layer PCB. (Immersion gold)
Compact size 1.693" x 2.126" (43 x 54 mm)
Tested all I/O
RoHS compliance
MADE IN JAPAN
Package Contents
| Item | Image | Quantity |
| --- | --- | --- |
| FPGA Board (ACM-113-**) | | 1 |
| Sockets (HIROSE 80P) | | 2 |
There is no paper document such as user's manual and circuit schematic in the package.
Please download those documents from the link in the documentation section below.
Price and Add-ons
Description
Model
(order code)
FPGA
List price
(JPY)
Stock Status
Cyclone V GX FPGA board
ACM-113-C3
5CGXFC3B7F23C8N
Cyclone V GX FPGA board
ACM-113-C5
5CGXFC5B7F23C8N
Cyclone V GX FPGA board
ACM-113-C7
5CGXFC7B7F23C8N
Universal board for ACM/XCM-1 series
ZKB-052
-
Universal board for ACM/XCM-1 series (Type2)
ZKB-103
-
---
[ ]