Pitch Conversion Board for ACM/XCM-1 series (Type4)
Overview
ACC-043 can convert ACM/XCM-1 series' user I/O into 2.54 mm pitch.
SMA connectors are available as optional ports for boards have fast serial interface. 4 pairs of signals can be drawn out to 8 SMA connectors. Voltages of IO power, VIOLA/VIOLB, can be set by DIP switch separately.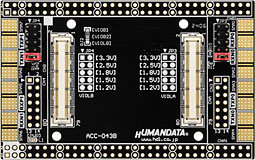 Click to Zoom


Click to Zoom
---
Image with SMA connectors.
(SMA connectors are optional and sell separately.)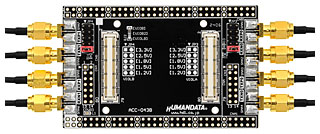 Click to Zoom
---
Reference Data

Waveform of ACM-116L transceiver

Click to Zoom

Channel: CNB(P)
Ref.Clk: 125MHz
Rate: 2.5Gbps
VOD Setting:31
Pre-emphasis 1st post-tap: -5
Data: PRBS-7
Device: 10AX016E4F27E3SG
Specifications
For ONE ACM/XCM-1 series board.
Two 80-pin HIROSE connectors
Separated two voltages for IO power can be switched by on-board DIP switch
128 general user I/Os (50x2+14x2)
Optional SMA connectors (sell separately)
High quality four layers PCB.(Immersion gold)
Credit-Card-Size 3.386"x 2.126" (86 x 54 mm)
Electrical short-circuit is tested (by Universal Open-Short tester)
MADE IN JAPAN
Package Contents
| Item | Image | Quantity |
| --- | --- | --- |
| ACC-043 | | 1 |
| Pin Headers | | 2 |
| screw set | | 1 |
There is no paper document such as user's manual and circuit schematic in the package.
Please download those documents from the link in the documentation section below.
Price and Add-ons
Description
Model
(order code)
List price
(JPY)
Stock Status
Pitch Conversion Board for ACM/XCM-1 series (Type4)
ACC-043
SMA connectors,EIGHT-piece set
(Yuetsu Seiki Edge-mount 1.6mm)
8-SMA089PE8D
---
[]