Last Updated: Wednesday, 30 November 2016
<Press Release>
New Product : Altera MAX 10 F672 FPGA board

November. 30, 2016 Release
HuMANDATA LTD., a manufacturer of various FPGA/CPLD boards in Japan, today released ACM-207, of FPGA board powered by Altera Corp.'s MAX 10 FPGA.

HuMANDATA's ACM-207 is equipped with Altera high-spec MAX 10 on a compact, 86 x 54 mm PCB. A configuration device, on-board oscillators, user switch and LEDs are mounted as minimum components of FPGA design and development. ACM-207 provides 296 user I/Os, which are divided into grouped I/O banks.

HuMANDATA's ACM/XCM series boards are designed on same PCB size and connector layout. So it is easy to swap the board to another one, and you can quickly try a new FPGA/CPLD.

ACM-207 is compliant with the RoHS Directive, and is designed for lead-free soldering.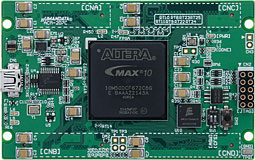 Click to Zoom : https://www.hdl.co.jp/ACM-207/top.800.jpg
High resolution image for press (0.99 MBytes) : https://www.hdl.co.jp/press/2016/16L0178/16L0178.jpg
Specifications:
Altera MAX 10
Power : 3.3 V single supply
- 2.5 V and 1.2 V on-board regulators
MRAM: MR2A16AMA35 (256Kx16bit)
Internal Configuration Device
SPI-FLASH ROM: N25Q032 (Micron, 32Mbit)
USB-UART I/F
User I/O : 296 (HIROSE connectors, 80 pin x2, 100 pin x2)
- Separable VCCIO
- Tested all I/O
Oscillator : 30 MHz
- External clock input pins
User Switch x3
- Push x1
- DIP x2 bit
User LED x2
Status LED (Power, Done)
Power-on Reset IC
JTAG Connector (10 pin socket) for download cable connection
- JTAG buffer for stable download and debug
High quality eight layer PCB.(Immersion gold)
Credit-Card-Size 3.386" x 2.126" (86 x 54 mm)
RoHS compliance
MADE IN JAPAN
Go to product page
---
About HuMANDATA:
HuMANDATA is a manufacturer of high quality FPGA/CPLD board in Japan.
- Basic and simple features
- Single power supply operation
- Same size/connector layout –ACM/XCM -EDA/EDX -AP/XP series
- Free download technical documents before purchasing
- High quality and highly reliable board from Japan
- Stocked items are ready to ship immediately
---
Contacts:
1-2-10-2F Nakahozumi, Ibaraki, Osaka, 5670034, Japan
TEL +81-72-620-2002(Japanese)
FAX +81-72-620-2003(Japanese / English )
URL
---
[]