Last Updated: Friday, 09 November 2018
<Press Release>
New Product : Xilinx Spartan-7 FGGA484 FPGA board
Nov. 9, 2018 Release
HuMANDATA LTD., the manufacturer of various FPGA boards in Japan, today released XCM-115Z series equipped with Xilinx Spartan-7 FGGA484 FPGA board.
XCM-115Z series is an evaluation board equipped with a XILINX's high performance FPGA, Spartan-7 series (FGGA484 package). XCM-115Z series have voltage regulators, oscillators, user LEDs, user switches, a configuration device on its compact size board.
Only one 3.3 V single power supply is needed. There are 128 user I/Os divided into two Vcco groups.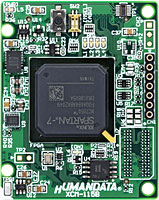 Click to Zoom : www.hdl.co.jp/XCM-115Z/top.560.jpg
High resolution image for press (1.25MBytes) : https://www.hdl.co.jp/press/2018/18J0213/18J0213.jpg
Specifications:
128 user I/Os (with two 80pin HIROSE connectors)
- CNA: 64 user I/O (High Range) Vcco = 3.3V
- CNB: 64 user I/O (High Range) Vcco = External inputs
- Separable VCCO (CNB)
Power : 3.3V single supply
- 1.0/1.8 V are generated by on-board regulators
- Sequenced power supplies (Power on)
Power-on Reset IC

for FPGA configuration

Configuration Device: Quad SPI ROM : MT25QL128 (Micron, 128Mbit)
Clocks: 50MHz (LVTTL) or External inputs
User Switch x2 (Push x1, Slide x1bit)
User LED x4
Status LED x2 (Power, Done)
JTAG port (7 pin socket)
- JTAG buffer for stable download and debug
High quality eight layers PCB (Immersion gold)
Compact size 1.693" x 2.126" (43 x 54 mm)
Tested all I/Os
Non-use of 6 Restricted substances of RoHS directive
MADE IN JAPAN
Go to product page
---
About HuMANDATA:
HuMANDATA is a manufacturer of high quality FPGA/CPLD board in Japan.
- Basic and simple features
- Single power supply operation
- Same size/connector layout –ACM/XCM -AP/XP series
- Free download technical documents before purchasing
- High quality and highly reliable board from Japan
- Stocked items are ready to ship immediately
---
Contacts:
1-2-10-2F Nakahozumi, Ibaraki, Osaka, 5670034, Japan
TEL +81-72-620-2002(Japanese)
FAX +81-72-620-2003(Japanese / English )
URL
---
[]