Last Updated: Wednesday, 18 September 2019
Xilinx Artix-7 FTG256 FPGA board

Overview
XCM-307 is an evaluation board equipped with a XILINX's high performance FPGA, Artix-7 series (FTG256 package).
XCM-307 has voltage regulators, an oscillator, user LEDs, switches and a configuration device on its compact size board.
Only one 3.3V single power supply is needed. There are 56 user I/Os divided into two Vcco groups.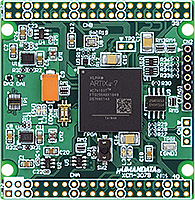 Click to Zoom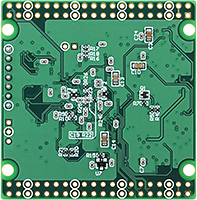 Click to Zoom
Block Diagram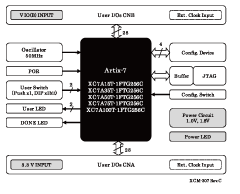 Click to Zoom
Specifications
Xilinx XC7A35T-1FTG256C or XC7A100T-1FTG256C

Feature
XC7A35T
XC7A100T
Slices
5,200
15,850
Logic Cells
33,280
101,440
Maximum Distributed RAM (kb)
400
1,188
Maximum Block RAM (kb)
1,800
4,860
DSP Slice
90
240
CMT (MMCMx1+PLLx1)
5
6
Maximum user I/O pins (Device)
170
170
Maximum user I/O pins (

Board

)
56
56

This table is for reference. Please refer to official data-sheets for certain information.

56 I/O PAD 100 mil (2.54 mm) grid
Configuration Device: N25Q032 (Micron, 32Mbit)
JTAG port (7 pin socket)
- JTAG buffer for stable download and debug
Power : 3.3V single supply
- 1.0/1.8 V on-board regulators
- Sequenced power supplies (Power on)
Clocks: 50MHz Oscillator (50 ppm) and external inputs
Power-on Reset IC

for FPGA configuration

User Switch x2 (Push x1, Slide x1bit)
User LED x2
Status LED x2 (Power, Done)
High quality six layer PCB. (Immersion gold)
Compact size 2.087" x 2.126" (53 x 54 mm)
Tested all I/O
RoHS compliance
MADE IN JAPAN
Package Contents
Item
Image
Quantity
FPGA board (XCM-307-***)
1
Pin Headers
2
There is no paper document such as user's manual and circuit schematic in the package.
Please download those documents from the link in the documentation section below.
Price and Add-ons
Description
Model
(order code)
FPGA
List price
(JPY)
Stock Status
Artix-7 FTG256 FPGA board
XCM-307-35T
XC7A35T-1FTG256C
Artix-7 FTG256 FPGA board
XCM-307-100T
XC7A100T-1FTG256C
Universal board
with 3.3V10A DC/DC POWER SUPPLY
ZKB-054
-
Universal board for ACM/XCM-0 series (Type2)
ZKB-105
-
---
[]