Last Updated: Thursday, 01 August 2019
USB-107 FT601 Evaluation Board
USB-107 is an evaluation board of FTDI's FT601. FT601 supports USB 3.0 SuperSpeed (5Gbps).
You can utilize this board for FT601 performance estimating, preproduction prototypes, USB communication interfaces for your application and more.
» Please also see other FT600/FT601 series products.
Overview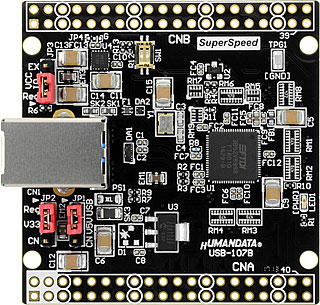 Click to Zoom
Specifications (USB-107)
FT601 (FTDI)
USB3.0 B Connector
40-pin user interface (CNA/CNB)
All signals are available from user I/F
Operate from 5.0 V or 3.3 V power supply
- USB bus power operation
- External inputs are available (5.0 V, 3.3 V, VCCIO)
- On-board 3.3 V regulator
- On-board configurable VCCIO regulator
Power-on reset IC
USB3.0 Cable (1.0 m)
DIL 40-pin header for user I/F
All products are tested by connecting to a computer
ESD/Surge protection devices for USB signal lines
4 layer PCB with Immersion gold
Compact size 2.087" x 2.126" (53 x 54 mm)
Non-use of 6 Restricted substances of RoHS directive
MADE IN JAPAN
Specifications (FT601)
This is not a specification of USB-107 but of FT601.
For more details, please see FTDI's web site.
Support for USB3.0 SuperSpeed (5 Gbps), USB High Speed (480 Mbps) and USB 2.0 Full Speed (12 Mbps) transfer
Available with either 32bit wide parallel FIFO interface
Supports 2 parallel slave FIFO bus protocols, with data bursting rate up to 400 Mbps
Supports multi channel FIFO interface
Up to 8 configurable endpoints (pipes)
Built-in 16kB FIFO data buffer RAM
Supports multi voltage I/O: 1.8 V, 2.5 V and 3.3 V
Configurable GPIO support
Supports Remote Wakeup capability
Provides USB Battery Charger Detection
Integrated power-on-reset circuit
Extended operating temperature range: -40 ℃ to 85 ℃
Reference Data
USB3.0 compliance test. Eye pattern of upstream tests.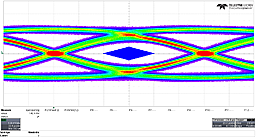 click to zoom
USB2.0 compliance test. Eye pattern of upstream tests.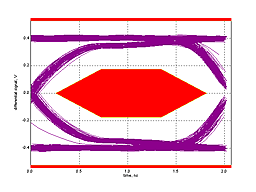 click to zoom
Package Contents
| Item | Image | Quantity |
| --- | --- | --- |
| USB-107 | | 1 |
| USB cable (Type A to B) | | 1 |
| 40-pin header | | 2 |
There is no paper document such as user's manual and circuit schematic in the package.
Please download those documents from the link in the documentation section below.
Price and Add-ons
Description
Model
(order code)
List price
(JPY)
Stock Status

FT601 Evaluation Board

USB-107
Ordering
HOW TO ORDER HuMANDATA PRODUCT
---
[ ]