Last Updated: Thursday, 19 December 2019
5V Tolerant Conversion Board for PLCC68 Module
ACC-037Y converts PLCC68, AP68 and XP68, series' interface into 5V compatible I/Os. Some 5V compatible bus converter ICs help the module to connect to 5V system.
Input of 5V swing will be translated to 3.3V and be passed to the PLCC module. Input of 3.3V swing will be passed just as it is. Output from PLCC module can be translated to 5V swing with a pull-up resister. The module can control output enable signals of the switches.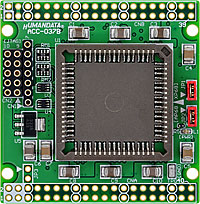 Click to Zoom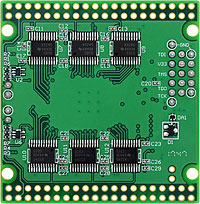 Click to Zoom
Specifications
PLCC socket (68 pin) for AP/XP68 series
Power supply : 5V single supply (onboard 3.3V generation)
5V user I/O with Bus Switch ICs
Output controls for each user I/O connector from module and external
JTAG connectors with signal buffers (10pin for AP68 series and 7pin for XP68 series)
Power LED
High quality four layer PCB. (Immersion gold)
Compact size 2.087" x 2.126" (53 x 54 mm)
RoHS compliance
MADE IN JAPAN
Package Contents
| Item | Image | Quantity |
| --- | --- | --- |
| ACC-037Y | | 1 |
There is no paper document such as user's manual and circuit schematic in the package.
Please download those documents from the link in the documentation section below.
Price and Add-ons
Description
Model
(order code)
List price
(JPY)
Stock Status
5V Tolerant Conversion Board for PLCC68 Module
ACC-037Y
---
[]