Last Updated: Wednesday, 02 November 2016
<Press Release>
New Product : Isolated Download Cable for Xilinx
Oct. 25, 2016 Release
HuMANDATA LTD., the manufacturer of various FPGA boards in Japan, today released ISO-HS2, of an isolated download cable for Xilinx.
ISO-HS2 is is an isolated download cable and it is compatible with the Xilinx download cable. It is incorporated with Digilent JTAG-SMT2-NC.
This download cable is isolated, so you can separate electronically development environment from target GND and signals. That makes it possible to develop and debug more safely.
ISO-HS2 is compliant with the RoHS Directive, and is designed for lead-free soldering.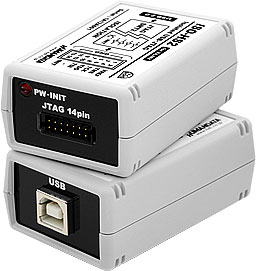 Click to Zoom : https://www.hdl.co.jp/press/2016/16G0170/top.800.jpg
High resolution image for press (0.56 MBytes) : https://www.hdl.co.jp/press/2016/16G0170/16G0170.jpg
Specifications:
Isolation with high speed digital isolators

Isolates JTAG signals of the Digilent JTAG-SMT2-NC
DC2000V bus isolation

Host I/F

USB 2.0 (Full Speed)
Standard USB2.0 B connector
USB Bus power operation

Target I/F

JTAG signals (TCK/TMS/TDO/TDI)
INIT signal
TCK speed max at 30MHz
Vcc input from a target
Supports Vcc from 1.8V to 3.3V

Status LED

Power LED (Red)
INIT signal (Red)

Supported natively by official development tools (ISE and Vivado)
Dimensions: 1.713" x 2.638" x 1.063" (43.5 x 67 x 27 [mm])
RoHS compliance
MADE IN JAPAN
Go to product page
---
About HuMANDATA:
HuMANDATA is a manufacturer of high quality FPGA/CPLD board in Japan.
- Basic and simple features
- Single power supply operation
- Same size/connector layout –ACM/XCM -AP/XP series
- Free download technical documents before purchasing
- High quality and highly reliable board from Japan
- Stocked items are ready to ship immediately
---
Contacts:
1-2-10-2F Nakahozumi, Ibaraki, Osaka, 5670034, Japan
TEL +81-72-620-2002(Japanese)
FAX +81-72-620-2003(Japanese / English )
URL
---
[]