Last Updated: Thursday, 07 April 2016
<Press Release>
New Product : FT600 Evalution board
Apr. 7, 2016 Release
HuMANDATA LTD., the manufacturer of various FPGA boards in Japan, today released FT600 Evaluation board, USB-106.
USB-106 is an evaluation board of FTDI's brand new FT600, USB to FIFO bridge IC, which supports USB 3.0 SuperSpeed (5Gbps). You can use FTDI device drivers which keeps supporting latest OS. That makes it easy to develop and maintain USB products.
FT600 of USB-106 has 16bit wide data bus and that makes it possible to transfer with 200MB/s at maximum. FT600's major signals are led out to a 40-pin 2.54mm pitch user interface. It is useful for connecting with an FPGA board and other devices and is also suited for built-in.
USB-106 passes USB3.0 compliance test and other performance inspections.
USB-106 is consists of Lead-free parts only and is compliant with RoHS regulations. HuMANDATA has extensive lineup of USB converters.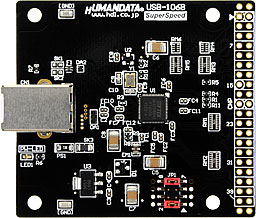 Click to Zoom : https://www.hdl.co.jp/USB-106/top.640.jpg
High resolution image for press (0.73 MBytes) : https://www.hdl.co.jp/press/2016/16D0163/16D0163.jpg
Specifications:
FT600 (FTDI)
USB3.0 B Connector
40-pin user interface
Operate from 5.0V or 3.3V power supply
On-board 3.3V regulator
Power-on reset IC
USB3.0 Cable (1.0m)
DIL 80-pin header for user I/F
All products are tested by connecting to a computer
ESD/Surge protection devices for USB signal lines
4 layer PCB with Immersion gold
2.244" x 2.48" (57 x 63 [mm])
RoHS Compliant
MADE IN JAPAN
Go to product page
---
About HuMANDATA:
HuMANDATA is a manufacturer of high quality FPGA/CPLD board in Japan.
- Basic and simple features
- Single power supply operation
- Same size/connector layout –ACM/XCM -AP/XP series
- Free download technical documents before purchasing
- High quality and highly reliable board from Japan
- Stocked items are ready to ship immediately
---
Contacts:
1-2-10-2F Nakahozumi, Ibaraki, Osaka, 5670034, Japan
TEL +81-72-620-2002(Japanese)
FAX +81-72-620-2003(Japanese / English )
URL
---
[]