Last Updated: Monday, 10 July 2017
Isolated Download Cable for Altera
ISO-TB1 is an isolated download cable and it's compatible with Terasic USB Blaster. It supports JTAG functions of the USB Blaster.
This download cable is isolated, so you can separate electronically development environment from target GND and signals. That makes it possible to develop and debug more safely.
You can use ISO-TB1 with Quartus II, Quartus Prime and Programmer in the same way as the USB Blaster. ISO-TB1 does not support AS mode and PS mode.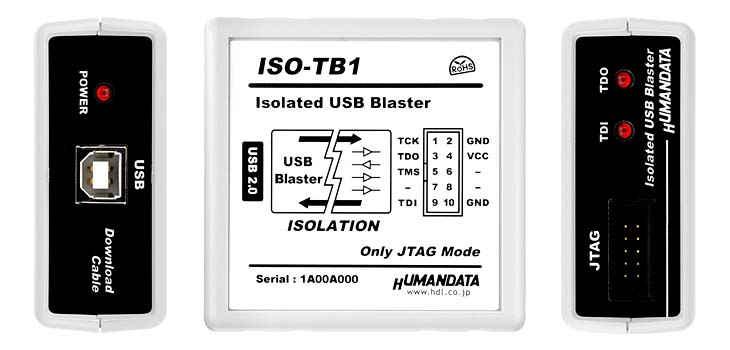 Specifications
Isolation with high speed digital isolators

Isolates JTAG signals of the Terasic USB Blaster Download Cable
DC2000V bus isolation

Host I/F

USB 2.0 (Full Speed)
Standard USB2.0 B connector
USB Bus power operation

Target I/F

JTAG signals (TCK/TMS/TDO/TDI)
AS and PS modes are not surpported
Vcc input from a target
Supports Vcc from 1.8V to 5V

Status LED

Power LED (Red)
Signal active LEDs (TDI and TDO)

Supported natively by official development tools (Quartus II, Quartus Prime)
Dimensions: 2.638" x 2.638" x 1.102" (67 x 67 x 28 [mm])
Non-use of 6 Restricted substances of RoHS directive
MADE IN JAPAN
Package Contents
Item
Image
Quantity
ISO-TB1
1
USB Cable
(A-B, 1.8m)

1

10pin Flat Cable
(2.54mm pitch)
1
There is no paper document such as user's manual and circuit schematic in the package.
Please download those documents from the link in the documentation section below.
Price and Add-ons
Description
Model
(order code)
List price
(JPY)
Stock Status
Isolated Download Cable for Altera
ISO-TB1
---
[ ]