Last Updated: Wednesday, 18 September 2019
Xilinx Spartan-7 FGGA484 FPGA board

Overview
Xilinx Spartan-7 FGGA484 High Performance FPGA Board. XCM-115Z is simple and easy to use.
It's Compact size. 3.3V single power supply operation.
Please also consider listed below.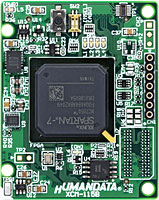 Click to Zoom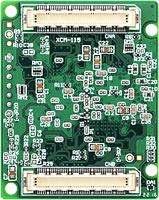 Click to Zoom
Block Diagram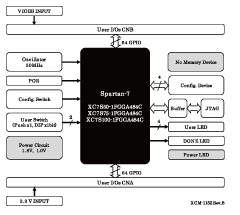 Click to Zoom
Specifications
128 user I/Os (with two 80pin HIROSE connectors)
- CNA: 64 user I/O (High Range) Vcco = 3.3V
- CNB: 64 user I/O (High Range) Vcco = External inputs
- Separable VCCO (CNB)
Power : 3.3V single supply
- 1.0/1.8 V are generated by on-board regulators
- Sequenced power supplies (Power on)
Power-on Reset IC

for FPGA configuration

Configuration Device: Quad SPI ROM : MT25QL128 (Micron, 128Mbit)
Clocks: 50MHz (LVTTL) or External inputs
User Switch x2 (Push x1, Slide x1bit)
User LED x4
Status LED x2 (Power, Done)
JTAG port (7 pin socket)
- JTAG buffer for stable download and debug
High quality eight layer PCB (Immersion gold)
Compact size 1.693" x 2.126" (43 x 54 mm)
Tested all I/Os
RoHS compliance
MADE IN JAPAN
Package Contents
| Item | Image | Quantity |
| --- | --- | --- |
| FPGA Board (XCM-115Z-***) | | 1 |
| Sockets (HIROSE 80P) | | 2 |
There is no paper document such as user's manual and circuit schematic in the package.
Please download those documents from the link in the documentation section below.
Price and Add-ons
Description
Model
(order code)
FPGA
List price
(JPY)
Stock Status
Spartan-7 FGGA484 FPGA board
XCM-115Z-50
XC7S50-1FGGA484C
Spartan-7 FGGA484 FPGA board
XCM-115Z-75
XC7S75-1FGGA484C
Spartan-7 FGGA484 FPGA board
XCM-115Z-100
XC7S100-1FGGA484C
Pitch converter for ACM/XCM-1 series (Type2)
ZKB-078KIT
-
Pitch Conversion Board for ACM/XCM-1 series (Type3)
ZKB-079
-
Pitch converter for ACM/XCM-1 series
ZKB-030KIT
-
Universal board for ACM/XCM-1 series
ZKB-052
-
Universal board for ACM/XCM-1 series (Type2)
ZKB-103
-
Pitch Conversion Board ACM/XCM-2 series
ZKB-041KIT
-
[ ]