Last Updated: Wednesday, 25 March 2020
Xilinx Spartan-3AN FGG484 FPGA board

Overview
Xilinx Spartan-3AN FGG484 High Performance FPGA Board. XCM-108 is simple and easy to use.It's Compact size. 3.3V single power supply operation.
*This series was discontinued.


Click to Zoom


Click to Zoom
Block Diagram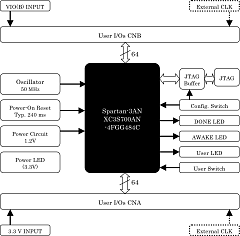 Click to Zoom
Specifications
Xilinx XC3S700AN-4FGG484C

Feature
XC3S700AN
System Gates
700 K
Logic Cells
13,248
Maximum Distributed RAM Bits
92 K
Maximum user I/O pins(Device)
372
Maximum user I/O pins(

Board

)
128
Total Block RAM Bits
360 K
Multipliers
20
DCMs
8

This table is for reference. Please refer to official data-sheets for certain information.

128 I/O two 80 pin HIROSE connectors
50 MHz Oscillator (50 ppm)or External
One User Push-Button Switch
Two User LEDs
Three Status LEDs (Power, Done,Awake)
Power-on Reset IC
JTAG port (7 pin socket)
JTAG buffer for stable download or debug
3.3 V single power supply operation with on-board 1.2 V regulator
High quality six layer PCB. (Immersion gold)
Compact size 1.693" x 2.126" (43 x 54 mm)
Tested all I/O
Non-use of 6 Restricted substances of RoHS directive
MADE IN JAPAN
Package Contents
Item
Image
Quantity
FPGA board (XCM-108-***)
1
Sockets(HIROSE 80P)
2
There is no paper document such as user's manual and circuit schematic in the package.
Please download those documents from the link in the documentation section below.
Price and Add-ons
Description
Model
(order code)
FPGA
List price
(JPY)
Stock Status
Spartan-3AN FGG484 FPGA board
XCM-108-700AN
XC3S700AN-4FGG484C
Pitch converter for ACM/XCM-1 series
ZKB-030KIT
-
Universal board for ACM/XCM-1 series
ZKB-052
-
Universal board for ACM/XCM-1 series (Type2)
ZKB-103
-
Pitch Conversion Board ACM/XCM-2 series
ZKB-041KIT
-
---
[]