Last Updated: Friday, 27 March 2015
Xilinx Spartan-3A DSP FGG676 FPGA board

Overview
Xilinx Spartan-3A DSP FGG676 pin High Performance FPGA Board. XCM-016 is simple and easy to use. 3.3V single power supply operation.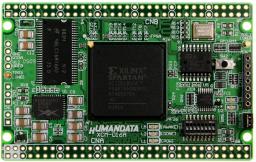 Click to Zoom


Click to Zoom
Block Diagram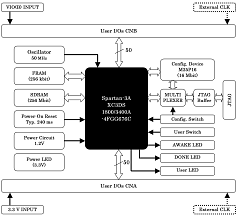 Click to Zoom
Specifications
Xilinx XC3SD1800A-4FGG676C or
Xilinx XC3SD3400A-4FGG676C

Feature
XC3SD1800A
XC3SD3400A
System Gates
1800 K
3400 K
Logic Cells
37,440
53,712
Maximum Distributed RAM Bits
260 K
373 K
Maximum user I/O pins(Device)
519
469
Maximum user I/O pins(

Board

)
100
100
Maximum Differential I/O Pairs
227
213
Total Block RAM Bits
1512 K
2268 K
DCMs
8
8
DSP48As
84
126

This table is for reference. Please refer to official data-sheets for certain information.

Configuration Device(ST SP1-ROM M25P16)
100 I/O PAD 100 mil (2.54 mm) grid
Separable VCCO
50 MHz Oscillator(50 ppm)or External
One User Push-Button Switch
Two User LEDs
Three Status LED(Power,Done,Awake)
SDRAM 256 M(16 M x 16)(Micron MT48LC16M16A2P-75-D)
FRAM 256 kbit(32 K x 8)(Ramtron FM18L08-70-SG)
Power-on Reset IC
JTAG port(7 pin socket)
JTAG buffer for stable download or debug
3.3 V single power supply operation
with on-board 1.2 V regulatos
High quality six layers PCB.(Immersion gold)
Credit-Card-Size 3.386"x 2.126" (86 x 54 mm)
Tested all I/O
Non-use of 6 Restricted substances of RoHS directive
MADE IN JAPAN
Package Contents
Item
Image
Quantity
FPGA board (XCM-016-***)
1
Pin Headers
2
Sockets
2
There is no paper document such as user's manual and circuit schematic in the package.
Please download those documents from the link in the documentation section below.
Price and Add-ons
Description
Model
(order code)
FPGA
List price
(JPY)
Stock Status
Spartan-3A DSP FGG676 FPGA board
XCM-016-1800A
XC3SD1800A-4FGG676C
Spartan-3A DSP FGG676 FPGA board
XCM-016-3400A
XC3SD3400A-4FGG676C
Universal board for ACM/XCM-0 series
ZKB-054
-
Universal board for ACM/XCM-0 series (Type2)
ZKB-105
-
---
[]