Last Updated: Monday, 25 July 2022
Xilinx Artix UltraScale+ FPGA board

Overview
Xilinx Artix UltraScale+ FFVB676 High Performance FPGA Board. XCM-117L is simple and easy to use. It's Compact size. 3.3V single power supply operation.
Under Development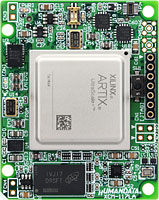 Click to Zoom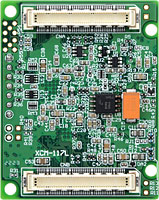 Click to Zoom
Block Diagram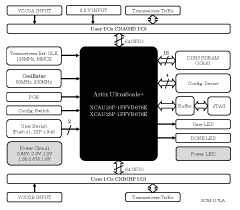 Click to Zoom
Typical Eye Diagram

Click to Zoom
Channel: 224_X0Y0(P)
Ref.Clk: 125MHz
Rate: 2.5Gbps
Swing: 950mVppd (1100)
Pre/Post-cursor: 0 dB
Data: PRBS-7
Trigger: Rising Edge
Signal Path: ZKB-154
Specifications
Artix UltraScale+
- XCAU20P-1FFVB676E
- XCAU25P-1FFVB676E

Feature
Artix UltraScale+
XCAU20P
XCAU25P
System Logic Cells
238,437
308,437
CLB Flip-Flops
218,000
282,000
CLB LUTs
109,000
141,000
Maximum Distributed RAM (Mb)
3.2
4.7
Block RAM Blocks
200
300
Block RAM (Mb)
7.0
10.5
UltraRAM Blocks
-
-
UltraRAM (Mb)
-
-
CMTs (1MMCM,2PLLs)
3
4
DSP Slices
900
1,200
System Monitor
1
1
Max HD I/O (Device)
72
96
Max HD I/O (Board)
64
64
Max HP I/O (Device)
156
208
Max HP I/O (Board)
64
64

This table is for reference. Please refer to official data-sheets for certain information.
128 user I/Os (with two 80pin HIROSE connectors)
CNA: 64 user I/O (HD) / CNB: 64 user I/O (HP)
* External power is needed for I/O (VCCOA/VCCOB)
* HD = High-density I/O with support for I/O voltage from 1.2V to 3.3V.
* HP = High-performance I/O with support for I/O voltage from 1.0V to 1.8V.
Power : 3.3V, VCCOA, VCCOB
- VCCINT, 0.9V, 1.2V, 1.8V, 1.35V, 0.675V are generated by on-board regulators
- Sequenced power supplies (Power on)
on board clocks
- 50 MHz, 200 MHz (LVDS)
- External inputs(CNA/CNB)
Separable VCCO
GTY Transceivers
TX/RX 2ch.
reference clocks: 125 MHz and external input (MMCX connectors)
Configuration Device:
Quad SPI ROM : MT25QU128 (Micron, 128Mbit)
DDR3L SDRAM: MT41K64M16TW-107:P (Micron, 1Gbit)
Power-on Reset IC

for FPGA configuration

User Switch x 2 (Push x1, DIP x1bit)
User LED x 1
Status LED x2 (Power, Done)
JTAG port (7 pin socket)
JTAG buffer for stable download and debug
Controlled I/O path length
High quality ten layer PCB (Immersion gold)
Compact size 1.693" x 2.126" (43 x 54 mm)
Tested all I/Os
RoHS compliance
MADE IN JAPAN
Package Contents
| Item | Image | Quantity |
| --- | --- | --- |
| FPGA Board (XCM-117L-***) | | 1 |
| Sockets (HIROSE 80P) | | 2 |
There is no paper document such as user's manual and circuit schematic in the package.
Please download those documents from the link in the documentation section below.
Price and Add-ons
Description
Model
(order code)
FPGA
List price
(JPY)
Stock Status
Artix UltraScale+ FFVB676 FPGA board
XCM-117L-20P
XCAU20P-1FFVB676E
Artix UltraScale+ FFVB676 FPGA board
XCM-117L-25P
XCAU25P-1FFVB676E
Universal board for ACM/XCM-L series
ZKB-154
-
Pitch Conversion Board for ACM/XCM-1 series (Type4)
ACC-043
-
[ ]