Last Updated: Wednesday, 19 September 2018
<Press Release>
New Product : Spartan-7 FGGA484 FPGA board
Sep. 19, 2018 Release
HuMANDATA LTD., the manufacturer of various FPGA boards in Japan, today released XCM-025 series equipped with Xilinx Spartan-7 FGGA484 FPGA board.
XCM-025 is an evaluation board equipped with a XILINX's high performance FPGA, Spartan-7 (FGGA484 package).
XCM-025 series have voltage regulators, oscillators, user LEDs, switches, and a configuration device on its compact credit-card size board.
Only one 3.3V single power supply is needed. There are 100 user I/Os divided into two Vcco groups.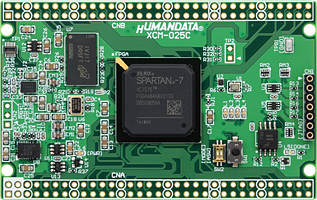 Click to Zoom : https://www.hdl.co.jp/XCM-025/top.800.jpg
High resolution image for press (1.04MBytes) : https://www.hdl.co.jp/press/2018/18H0209/18H0209.jpg
Specifications:
FPGA : Xilinx Spartan-7 series (FGGA484 package)
- XC7S75-1FGGA484C
- XC7S100-1FGGA484C
100 user I/O, 100 mil (2.54 mm) dual in-line.
- Separable VCCO (CNB)
Power : 3.3V single supply
- 1.0/1.5/1.8V on-board regulators
- Sequenced power supplies (Power on)
Power-on Reset IC

for FPGA configuration

on board clocks
- 50 MHz (LVTTL)
- 200 MHz (LVDS)
DDR3SDRAM (Micron, 1Gbit)
Configuration Device
Quad SPI ROM (Micron, 128Mbit)
User Switch x2 (Push x1, DIP x1bit)
User LED x4
Status LED x2 (Power, Done)
JTAG port (7 pin socket)
- JTAG buffer for stable download and debug
High quality six layers PCB.(Immersion gold)
Credit-Card-Size 3.386"x 2.126" (86 x 54 mm)
Tested all I/O
Non-use of 6 Restricted substances of RoHS directive
MADE IN JAPAN
Go to product page
---
About HuMANDATA:
HuMANDATA is a manufacturer of high quality FPGA/CPLD board in Japan.
- Basic and simple features
- Single power supply operation
- Same size/connector layout –ACM/XCM -AP/XP series
- Free download technical documents before purchasing
- High quality and highly reliable board from Japan
- Stocked items are ready to ship immediately
---
Contacts:
1-2-10-2F Nakahozumi, Ibaraki, Osaka, 5670034, Japan
TEL +81-72-620-2002(Japanese)
FAX +81-72-620-2003(Japanese / English )
URL
---
[]