Last Updated: Tuesday, 17 April 2018
<Press Release>
New Product : 5V I/O Conversion Board for PLCC68 Module
Apr. 9, 2018 Release
HuMANDATA LTD., the manufacturer of various FPGA boards in Japan, today released ACC-037, of a 5V I/O Conversion Board for PLCC68 Module.
ACC-037 converts PLCC68, AP68 and XP68, series' interface into 5V compatible I/Os. Some 5V compatible level converter ICs help the module to connect to 5V system.
Input of 5V swing will be translated to 3.3V and be passed to the PLCC module. Input of 3.3V swing will be passed just as it is. Output from PLCC module will be translated to 5V swing. The module can control direction and output enable signals of the converters.
ACC-037 is compliant with the RoHS Directive, and is designed for lead-free soldering.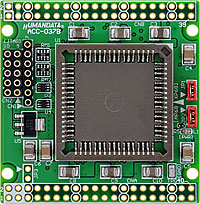 Click to Zoom : https://www.hdl.co.jp/ACC/ACC-037/top.800.jpg
High resolution image for press (0.95 MBytes) : https://www.hdl.co.jp/press/2018/18B0199/18B0199.jpg
Specifications:
PLCC socket (68 pin) for AP/XP68 series
Power supply : 5V single supply (onboard 3.3V generation)
5V user I/O with level converter ICs
Direction controls for each converter
Output controls for each user I/O connector from module and external
JTAG connectors with signal buffers (10pin for AP68 series and 7pin for XP68 series)
Power LED
High quality four layer PCB. (Immersion gold)
Compact size 2.087" x 2.126" (53 x 54 mm)
Non-use of 6 Restricted substances of RoHS directive
MADE IN JAPAN
Go to product page
---
About HuMANDATA:
HuMANDATA is a manufacturer of high quality FPGA/CPLD board in Japan.
- Basic and simple features
- Single power supply operation
- Same size/connector layout –ACM/XCM -AP/XP series
- Free download technical documents before purchasing
- High quality and highly reliable board from Japan
- Stocked items are ready to ship immediately
---
Contacts:
1-2-10-2F Nakahozumi, Ibaraki, Osaka, 5670034, Japan
TEL +81-72-620-2002(Japanese)
FAX +81-72-620-2003(Japanese / English )
URL
---
[]