Last Updated: Wednesday, 18 September 2019
Xilinx Spartan-7 FTGB196 FPGA board

Overview
XCM-308 is an evaluation board equipped with a XILINX's high performance FPGA, Spartan-7 series (FTGB196 package).
XCM-308 has voltage regulators, an oscillator, user LEDs, switches and a configuration device on its compact size board.
Only one 3.3V single power supply is needed. There are 56 user I/Os divided into two Vcco groups.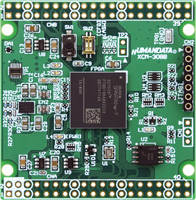 Click to Zoom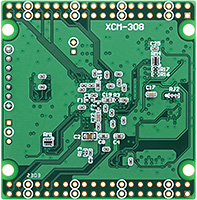 Click to Zoom
Block Diagram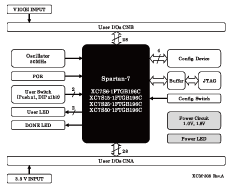 Click to Zoom
Package Contents
Item
Image
Quantity
FPGA board (XCM-308-***)
1
Pin Headers
2
There is no paper document such as user's manual and circuit schematic in the package.
Please download those documents from the link in the documentation section below.
Price and Add-ons
Description
Model
(order code)
FPGA
List price
(JPY)
Stock Status
Spartan-7 FTGB196 FPGA board
XCM-308-6
XC7S6-1FTGB196C
Spartan-7 FTGB196 FPGA board
XCM-308-15
XC7S15-1FTGB196C
Spartan-7 FTGB196 FPGA board
XCM-308-25
XC7S25-1FTGB196C
Spartan-7 FTGB196 FPGA board
XCM-308-50
XC7S50-1FTGB196C
Universal board
with 3.3V10A DC/DC POWER SUPPLY
ZKB-054
-
Universal board for ACM/XCM-0 series (Type2)
ZKB-105
-
---
[]