Last Updated: Friday, 17 June 2022
Intel MAX 10 U169 FPGA board (
5V

Tolerant)

Overview
ACM-031Y is Intel's Hi-performance FPGA MAX 10 board. It's compact and very simple. 5V or 3.3V single power supply operation.
Equipped Bus switch ICs offer you useful 5V user I/O interfaces.
---
Rev2: The production of the Power IC (Enpirion) on the board was discontinued. So the part has been changed to the alternative and the board was revised.
For more details, please refer to the circuit schematics.
Please also consider listed below:
ACM-031 has 5V I/O level converters which can help to control output 5V full-swing.
*The image is Rev1.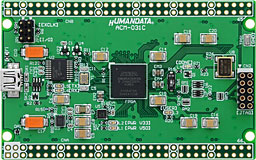 Click to Zoom
*The image is Rev1.


Click to Zoom
Block Diagram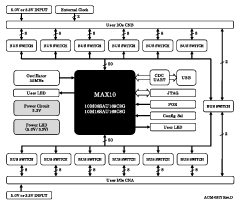 Click to Zoom
Package Contents
| Item | Image | Quantity |
| --- | --- | --- |
| FPGA Board (ACM-031Y-**) | | 1 |
| Pin Headers | | 2 |
| Sockets | | 2 |
There is no paper document such as user's manual and circuit schematic in the package.
Please download those documents from the link in the documentation section below.
Price and Add-ons
Description
Model
(order code)
FPGA
List price
(JPY)
Stock Status
MAX 10 U169 FPGA board
(5V Tolerant)
ACM-031Y-08
10M08SAU169C8G
MAX 10 U169 FPGA board
(5V Tolerant)
ACM-031Y-16
10M16SAU169C8G
Universal board
with 3.3V10A DC/DC POWER SUPPLY
ZKB-054
-
Universal board for ACM/XCM-0 series (Type2)
ZKB-105
-
---
[ ]