Last Updated: Tuesday, 07 April 2020
5″ Color LCD Display Module with Touch Panel
Overview
UTL-025 is a 5 inch TFT Color LCD Module with 800 x 480 pixels and resistive touch panel. It operates from single DC 3.3 V power supply.
UTL-025 has a Seiko Epson Corp.'s LCD controller (S1D13781). You can use it and control UTL-025 by SPI mode or Indirect 8 bit mode. And also a piezo buzzer is equipped to make sounds and beep.
UTL-025 covered with a plastic bezel, so you can easily to build it to other devices.
*This series was discontinued.
Black (front)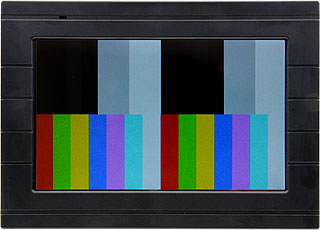 Click to Zoom
Gray (front)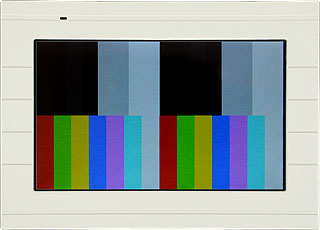 Click to Zoom
---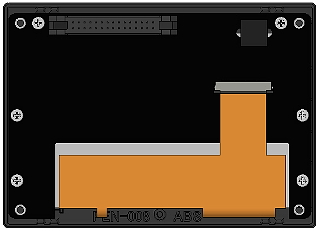 Rear (illustration)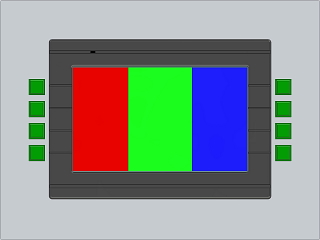 Set up Example: Slits on plastic bezel help to guide position of buttons placed on a fixture.
Specifications
Item
Specifications
Remark
Power
DC 3.3±5% [V]
LCD
Size: 5 inches
Resolution: 800 x 480 pixels
Active Area : 108.0 x 64.8 [mm]
Display Colour: 256
LED Back-light unit is included
Controller
S1D13781
Seiko Epson Corp.

Touch panel

Resistive membrane system
AD7843 (Analog Devices, Inc.)

Piezobuzzer

Piezoelectric
4kHz (Center frequency)
I/F
MIL 30pin Connector
LVTTL
SPI or 8 bit control
Dimensions
139(W) x 100(H) x 10(D) [mm]
excluding projections
Package Contents
| Item | Image | Quantity |
| --- | --- | --- |
| UTL-025-** | | 1 |
There is no paper document such as user's manual and circuit schematic in the package.
Please download those documents from the link in the documentation section below.
Price and Add-ons
Description
Model
(order code)
List price
(JPY)
Stock Status
5″ Color LCD Display Module with Touch Panel (Black)
UTL-025-BK
5″ Color LCD Display Module with Touch Panel (Gray)
UTL-025-GY
30pin Flat cable for UTL-025

UTL-025-CA1
Ordering
HOW TO ORDER HuMANDATA PRODUCT
---
[]